8 SKIN CARE TIPS FROM K-POP IDOLS FOR FLAWLESS SKIN
Korea's exports are endless—Samsung, kimchi, Missha, and many others. However, it's undoubtedly clear the real winners are K-pop music and skincare routines.
Both are intrinsically linked—Korean idols have flawless skin, and many of us seek to achieve such perfection.
Want to know how? Check the unexpected beauty tricks endorsed by your favorite K-pop idols.
1. Don't forget to wash your hands.
Bigbang's Daesung reminds you of the importance of keeping your face free of damaging agents—he advises to always scrub your hands carefully before starting any skincare routine.
His idea is well-grounded, as your hands carry endless bacteria that can transfer to your face and cause all sort of blemishes.
How to wash your face "daesung style" pic.twitter.com/JStSiKLlno

— VANNY (@vannyluvdae) June 30, 2015
2. Invest in an electronic cleansing brush.
Some K-pop idols take care of their beauty through lengthy processes, and I.M is no exception.
Fellow members of Monsta X agree he has the most extensive routine, and it shows. However, I.M specifies that he must wash his face with an electronic cleansing brush, to ensure a deep reach and perfect, small pores.
03. Pamper yourself with a sheet mask.
We have talked about the benefits of Korean face masks, but our word is nothing compared to that of Jin's.
The oldest member of BTS swears by the hydrating and brightening properties of sheet masks and affirms he enjoys putting them on whenever his skin is dry or sun-exposed for an instant fix.
04. Hydrate your lips as you sleep. 
TWICE's Nayeon has been praised by her gorgeous lips, and she insists the trick is simple—take advantage of your sleeping hours.
Apply lip balm right before sleeping to hydrate the skin through the night. She even advised to take the hack one step beyond, and apply it on any dry area you may have on your face!
05. Use your ring fingers.
Some celebrities prefer to avoid touching their face, but JooE is not one of them.
According to the Momoland member, it's best for the skin if you only use your ring fingers, since they are the weakest. The lack of strength will protect your face from rough movements that may damage the sensitive skin.
06. Slap yourself!
If there is something Kihyun from MONSTA X and Yeonwoo from Momoland have in common, is their method to apply skincare products.
According to them, patting your skin ensures a deeper reach through the layers—even though according to their fellow members, their style is better described as 'slapping' instead.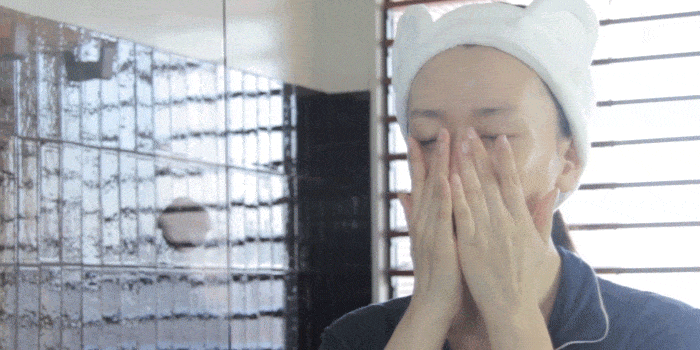 07. Wash, wash, wash!
Third time's the charm, and Chung Ha lives by this saying.
According to her, it's essential to clean the skin thoroughly before applying any product, so she does so three times—first with an oil cleanser, then with a foaming one, and finally with a bubble face wash, guaranteeing a deep reach.
08. The importance of heat. 
The iconic Jessica Jung is a known beauty guru, and she advises you to make use of heat to apply your skincare products
Your natural body warmth is an ally—it helps your skin absorb the products more efficiently in a shorter time frame, so make sure to apply each of them with the tip of your fingers.